Welcome to Our Practice
Welcome to Daystar Skin & Cancer Center, Your Dermatologist in Poinciana, FL
Daystar Skin & Cancer Center is dedicated to help our community achieve their healthiest skin possible. Our center is conveniently located to serve Kissimmee, Orlando and Poinciana.
Whether you are facing skin cancer, struggling with a chronic skin condition or seeking a new fresh approach to your skin care needs, we are here to server you! We see both children and adults and accept most major insurances. If you have any questions about our services, please feel free to contact us.
We believe in order to maintain beautiful healthy skin, the whole person needs to be cared for. Skin is the outermost reflection of what lies beneath and we are here to help you discover inner and outer beauty so that you may "Let your light shine!"
Same day appointments and walk-ins welcome
Surgery within 1 week of cancer diagnosis
Mohs' Surgeon, Dermatologist, Affiliate Plastic Surgeon and Dermatopathologist on site
Biopsy results for skin cancers are usually available within a few days/weeks
General & cosmetic dermatology services
We accept most major insurances
Se habla Español
Most important OUR patients are seen by PHYSICIANS ONLY!!
---
Superficial Radiation Therapy (SRT)
Painless, Non-Invasive & Effective
Sometimes the cutting-edge of skin cancer treatment means NO cutting at all. Superficial Radiation Therapy (also known as Superficial Radiotherapy, and SRT), is a proven, non-surgical method of treating non-melanoma skin cancers such as basal cell carcinoma or squamous cell carcinoma, virtually any place on your body.
SRT is not like the radiation used to treat other cancers. It preserves your surrounding healthy tissue while effectively treating the malignant (cancerous) cells, painlessly penetrating only about 5mm below your skin's surface – virtually the thickness of your skin.
Is SRT Right for You?
For some patients with non-melanoma skin cancers, this advanced radiotherapy treatment has several advantages over surgical procedures, and:
Is safe & effective
Eliminates the discomfort that can follow surgery
Requires short treatment sessions
Results in minimal to no scarring
Has virtually no risk of nerve damage
Requires no anesthesia
Reduces the risk of post-procedure infections
Has a quick recovery time
Requires no post-reconstructive surgery
Allows you to enjoy your regular activities such as showering, playing golf and tennis, etc.
Your Daystarskin and Cancer center physician will discuss which advanced treatment option is most appropriate for you. Other options include Mohs micrographic surgery.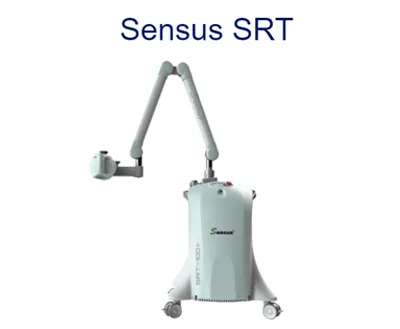 PRECISE, PAINFREE, NON-SURGICAL TREATMENT ONLY TAKES MINUTES.
A NON-INVASIVE, SENSIBLE ALTERNATIVE CANCER TREATMENTS FOR THE SKIN.
Harnessing the remarkable healing power of Superficial Radiotherapy first used more than 50 years ago, Sensus Healthcare developed the SRT-100™—a state-of-the art system that is transforming the lives of people coping with non-melanoma skin cancer and unsightly keloid scars.
Every patient deserves a choice. Now they have a non-invasive, out-patient treatment option for non-melanoma skin cancer and keloids.
As a provider who understands the serious risks, complications and side effects that can accompany the surgical intervention of skin cancer, we offer patients with alternative cancer treatments— specifically, a non-surgical solution for basal cell carcinoma treatment and squamous cell carcinoma treatment.
We are honored to offer the SRT-100™. Inspired by the tried-and-true Superficial Radiotherapy (SRT) systems that were once the proven gold standard among dermatologists and radiation oncologists, our state-of-the-art system is ideal for basal cell carcinoma treatment and squamous cell carcinoma treatment.
The SRT-100 delivers a precise and calibrated dose of energy that penetrates only five millimeters below the skin's surface—making it one of the safest and most effective alternative cancer treatments available. Unlike more powerful radiation devices, the SRT- 100™ carefully destroys malignant skin cancer cells while preserving healthy tissue.
By delivering a precise, calibrated dose of Superficial Radiotherapy that only goes skin deep, patients can be safely treated right in their physician's office. Each treatment takes only a few minutes and is virtually painless.
Low-dose radiation effectively destroys basal cell carcinoma and squamous cell carcinoma, as well as the non-malignant tumor cells that cause keloids. Best of all, it doesn't involve cutting, bleeding or stitching. With the SRT-100™, there is no need for anesthesia, no risk of infection or scarring, no need for reconstructive plastic surgery. Patients heal quickly and don't have downtime or lifestyle restrictions following treatment.
See the Results: